CXwow BETA available for a limited on-demand basis

AI building customer experience for real people
Spend less money for superior customer service! CXwow gives you an omnichannel customer experience platform that delivers seamless engagement across all platforms. You'll have happier customers, spend less time on issues, and increase your revenue.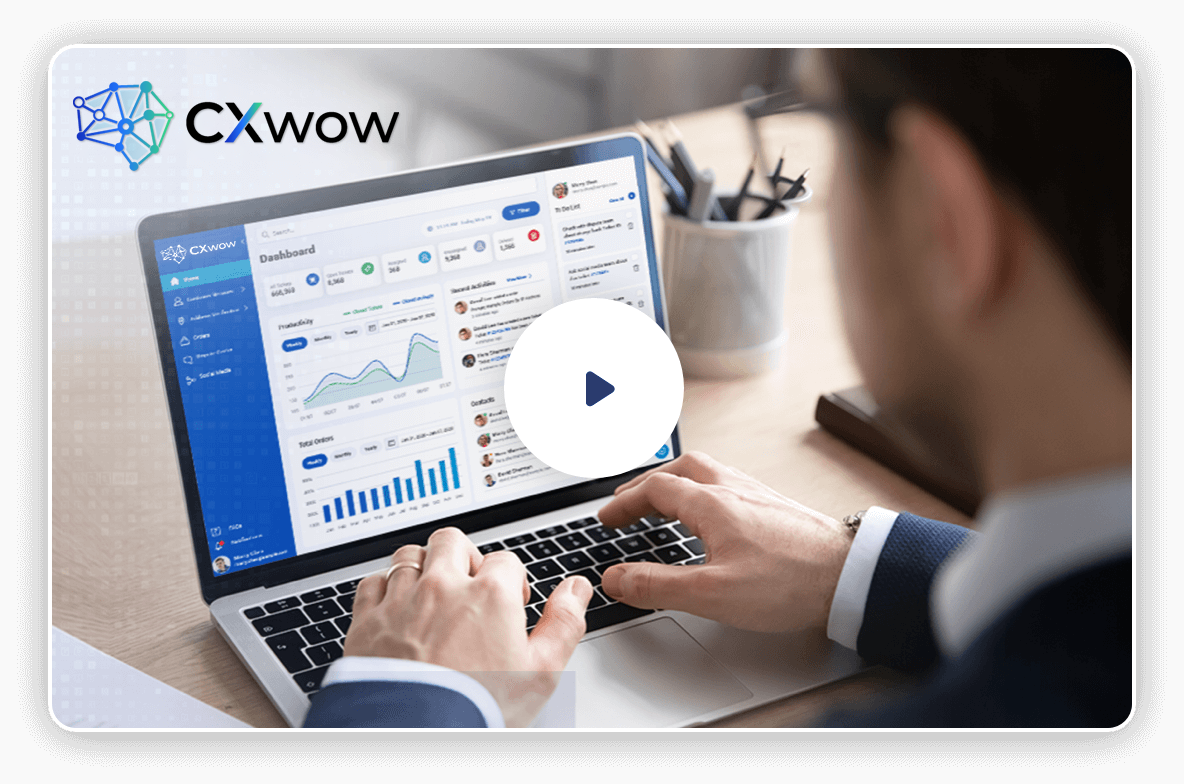 CXwow Makes Customer Service
Easy And Profitable
1
CXwow Makes Your Customers Happier
Make customer interactions a positive experience by having all the important information in one place. By
giving your agents a one-stop, easy-to-use tool
you empower them to deliver relevant, accurate information to your customers, every time.
2
Faster Customer Service Is Better Customer Service
Instead of using tickets, CXwow creates a powerful, searchable knowledge base that
allows AI to quickly and accurately answer a wide range of questions in real time
. If the question requires a live agent, that agent will enter the interaction with a comprehensive understanding of what is required to make your customer happy.
3
Increase Your Revenue With Superior Customer Service
By supporting outbound sales, you'll see a pronounced increase in revenue. CXwow's AI knowledge base can
reduce agent contact by up to 40%
. The less time your customers spend with an agent, the happier they will be with the interaction!
The demand for CXwow is extremely high. Make a profile and you can try the demo of CXwow. To join the paid account wait-list simple apply for an account. You will not be billed until onboarded.
CXwow Gives Your Customer Service a Gold Standard Edge
Fully Integrated With Most
E-Commerce
Marketplaces And Help Center Tools
CXwow is optimized to work seamlessly with
Amazon
,
PayPal
,
Shopify
and
Walmart
's online platforms, as well as most other leading marketplaces. It also
integrates with help center tools like ZenDesk and FreshDesk
.
CXwow gives you the flexibility to provide flawless customer service.
Using AI, you can
interact with your customers in a wide variety of situations. Sell and/or refund seamlessly
. Because it supports outbound sales, you can also use agents to reach out to customers during downtime for upgrades and upsells.
Create A Powerful AI Generated Knowledge Base
Information is power, and CXwow's AI generated knowledge base gives you the power your customers need. It
vets racism, profanity and negative sentiment
, so you don't have to worry about these issues complicating interactions.
TRY CXWOW TODAY!
Sign up here for a demo account, and we'll notify you when you're eligible for a paid account. Omnichannel customer experience is here!
Competition
One single tool for all customer service interactions
Uses AI power to reduce agent context by up to 40%
Create unlimited seats and spool them up or down during busy seasons
Amazon, PayPal, Shopify and Walmart marketplaces integrations
Zendesk and Freshdesk integrations
No tickets
Creates powerful searchable knowledge bases
AI vets racism, profanity or negative sentiment
Uses temp staff by AI coaching them on your products
Commission CX staff for upselling
Controls agent refund
Full analytics on agent behavior
Uses freelancers provided by CXwow
More than 3 Csat types
Auto customer satisfaction surveys
No fixed term contracts
Voice to text